2023 soring holidasy at Adrenalin Park, Cluj will again be a lot of fun for the little ones! But of course it depends on the weather. Spring break for school kids in Romania includes the Easter holidays. It is set to include both Catholic and Orthodox Easter. So pupils will be on holiday until 18 April. During this period, Adrenalin Park invites parents to organize outings to Adrenalin Park for their pupils, in groups, with an adult supervisor.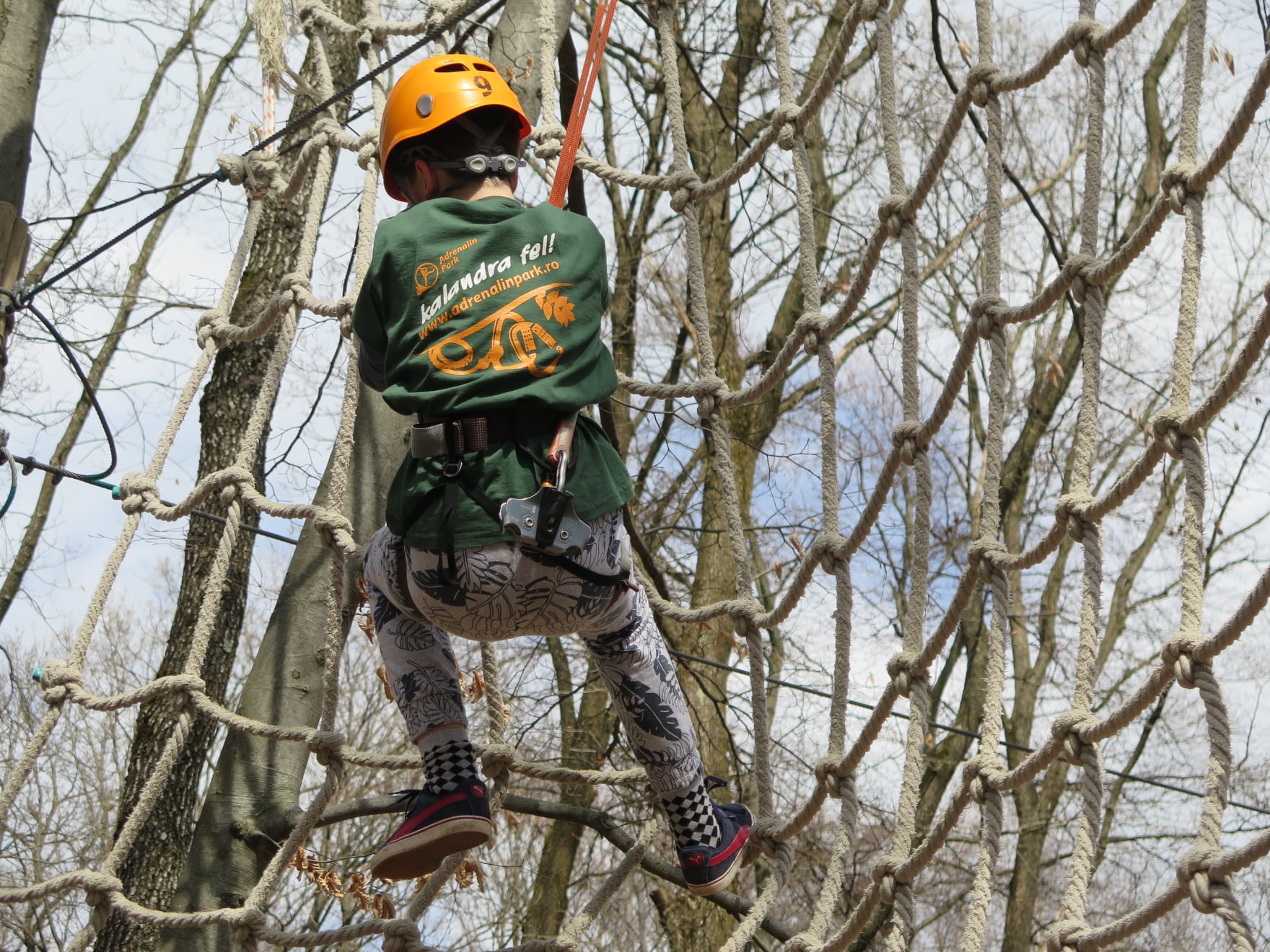 Some ideas for organizing spring break at Adrenalin Park, Cluj:
Organize the kids in a small spring holiday group
The group can be formed based on proximity (block or neighborhood neighbors), on affinity (friends from school or extracurricular activities) or on other criteria that you like!
2023 Spring Holidays at Adrenalin Park Cluj will definitely gather some interesting profiles!
Designate an adult to supervise the group
We know that parents don't have holidays, so extra organization is necessary during this period. In our experience, we recommend that parents find a trusted adult – from family, friends or the class – who is willing to organize the outing for the group.
Organize appropriate transport
Private means of transport will be chosen, depending on the size of the group, the resources of the group of parents and of course, you can use specialized transport companies to bring the pupils at a certain time and pick them up at a pre-arranged time.
Public transport allows access to Feleacu station by M11, and from there, a moderate 5 km walk, about one hour at a leisurely pace, to Adrenalin Park. This is a suitable option for children used to outdoor activities.
Get the kids ready for the Adrenalin Park outing
Explain how many new things they'll learn at Adrenalin Park: climbing trees, sliding down zip lines, belaying with self-locking pulleys, using the pulley, going over obstacles and self-coordination.
Draw their attention to the importance of following the rules of the adventure park and the instructions given by the Adrenalin Park monitors.
Set some rules for your outing so that all children can follow them.
Communicate the necessary equipment to each family so that each child is prepared in case of rain or snow.
Set the duration of your group outing at Adrenalin Park
For a good organization, it is good to make a small agenda. Here you will include:
Meeting time
Transport time to Adrenalin Park
Duration of your stay at Adrenalin Park (2 hours, 3 hours, 4 hours)
Time for lunch (if you choose to have lunch at Adrenalin Park)
Transport time back home (Cluj-Napoca and surroundings)
Pick-up time of the children by the parents or designated persons
Plan in advance the arrival at Adrenalin Park
Keep an eye on the weather and the weather forecast so you can approximate the date and time of departure. Notify the Adrenalin Park team via the booking form of your intention to bring a group of children. We will confirm if there are enough places in that time slot and what are possible alternatives.
In general, spring break outings are a delight for children of all ages. We are convinced that if you follow the recommendations above, you will be able to build a holiday programme that is manageable, attractive for children and relaxing for parents. Adrenalin Park's priority is the safety of our guests – young and old – that's why our ttree climbing courses are suitable for all heights and ages!
2023 spring holidays at Adrenalin Park Cluj can be a time to motivate each kid to learn something new, get moving and make new friends!
Reservations can be made through the booking form or directly through office@adrenalinpark.ro