School in a Different Way and Green Week 2023/2024 at Adrenalin Park: According to the official release sent by the Ministry of Education the time period when schools will be able to organize the two national programmes "School In A Different Way" and "Green Week" is set between September 11, 2023 and April 26, 2024. Therefore, we invite teachers and pedagogues to organize ahead their school trips to Adrenalin Park! Our team is ready to welcome you with outdoor activities having a focus on an active life style, in harmony with Nature!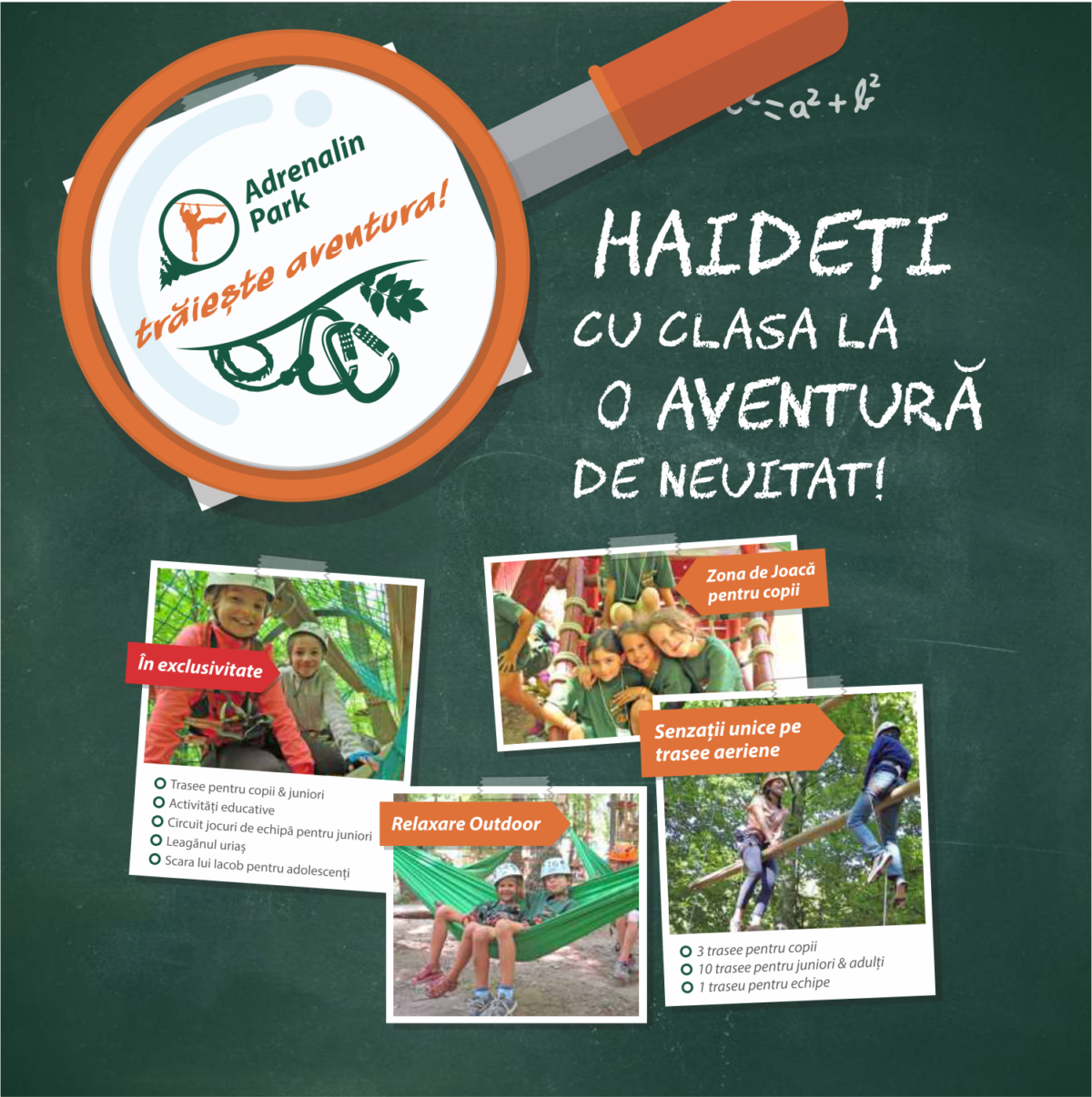 School in A Different Way 2023/2024 at Adrenalin Park
Adrenalin Park team has an experience of 9 years in delivering kids programmes, under the frame of "School in A Different Way "national programme.
The main goal of engaging school pupils in adventure activities at Adrenalin Park is to broaden their horizon with an active, inclusive, sustainable life style in harmony with Nature.  
The specific objectives are:
Gaining new knowledge set and new skill by progressing on the adventure courses
Discovering professions and career opportunities offered by the adventure torism in rural landscapes
Understanding how a rural and leisure tourist attraction can function in a sustainable way, by respecting the environment and the local culture.
The interdisciplinary nature of the activities available at Adrenalin Park as part of the "School in a different way" programme is a strong argument for organizing class trips to the adventure park. Children are engaged in activities that stimulate both their motor skills and mental flexibility. At the same time, they get in touch with the basic principles of environmental protection and sustainable activity development.
The innovative approach results from taking students of all ages out of their comfort zone and engaging them in a circuit of team games that stimulate collaboration, communication, planning and solving carefully prepared obstacles.
The creativity and originality of the activities done by the students at Adrenalin Park results from the way they manage to overcome the obstacles, but also from the follow-up materials through which the students can relate their experience here: free composition, poetry, essay, picture, photography, film or animation.
The level of student involvement in adventure activities is at its highest. Their curiosity about adventure courses, their own skills and new techniques of progressing on the courses are a real inspiration to any adult. In addition, middle and high school students can already get involved in the organization of the trip. They will learn how to make a booking, how to announce the group, how to organize the transport, who takes the group photos, how we form teams, Etc. The Adrenalin Park team is happy to answer the students' questions; of course, their teachers will coordinate them during the entire process.
Sustainability is a widely debated topic with kids eager to learn how an adventure park works in the middle of a forest and in the middle of a rural community. Students will learn about seasonality, getting involved in local action, cleaning up the surrounding forest and caring for the organic architecture building and adventure park grounds, and ongoing professional training for the team.
If you would like your school students to discover the benefits of outdoor adventure activities too, we invite you to request an offer via the booking form: https://www.adrenalinpark.ro/en/booking/
Green Week 2023/2024 at Adrenalin Park
The "Green Week" programme in Romania was designed as an educational platform in the fields of science, technology, engineering, arts and mathematics (STIAM), providing a context for experimentation in which both teachers and preschoolers/students are encouraged to show their creativity and to combine, in an attractive way, theory with its applications in everyday life.
At Adrenalin Park, through adventure activities on dedicated adventure courses for toddlers, juniors and adults, both pupils and teachers will be able to experience the freedom of outdoor activities offered by contemporary technologies for climbing among trees, belaying and self-belaying on different course elements.
In addition, they will be able to discover a rural tourist destination with organic architecture that works with advanced energy and water recirculation systems.
After the physical activity, the creative part can be continued at school, with the creation of literary exhibitions, artistic works and scientific dossiers.
In order to enjoy the Green Week experience at Adrenalin Park, near Cluj, we invite you to make an appointment directly on the booking form: https://www.adrenalinpark.ro/en/booking/
School and Preschool Student Group Bookings
Whether for preschoolers or school students, the Adrenalin Park team is ready to adapt the activities to their age and their specific abilities. The adventure park monitors work directly with the teaching coordinators to ensure that the outing is optimally organized. You can send us the exact details via the booking form or directly on office@adrenalinpark.ro