Adrenalin Park adventure activities are a pure immersive outdoor experience for all group sizes, all ages and all abilities!  Unite your tribe with the ultimate group adventure and go tree climbing and having fun on ziplines in the middle of Făget forest, near Cluj-Napoca! Team building activities are the real glue of a team spirit and we are here to help you deliver unique sensations for the entire team!
Adrenalin Park stages one-of-a-kind activities and thrilling group activity all year round! Book your tribe activity now!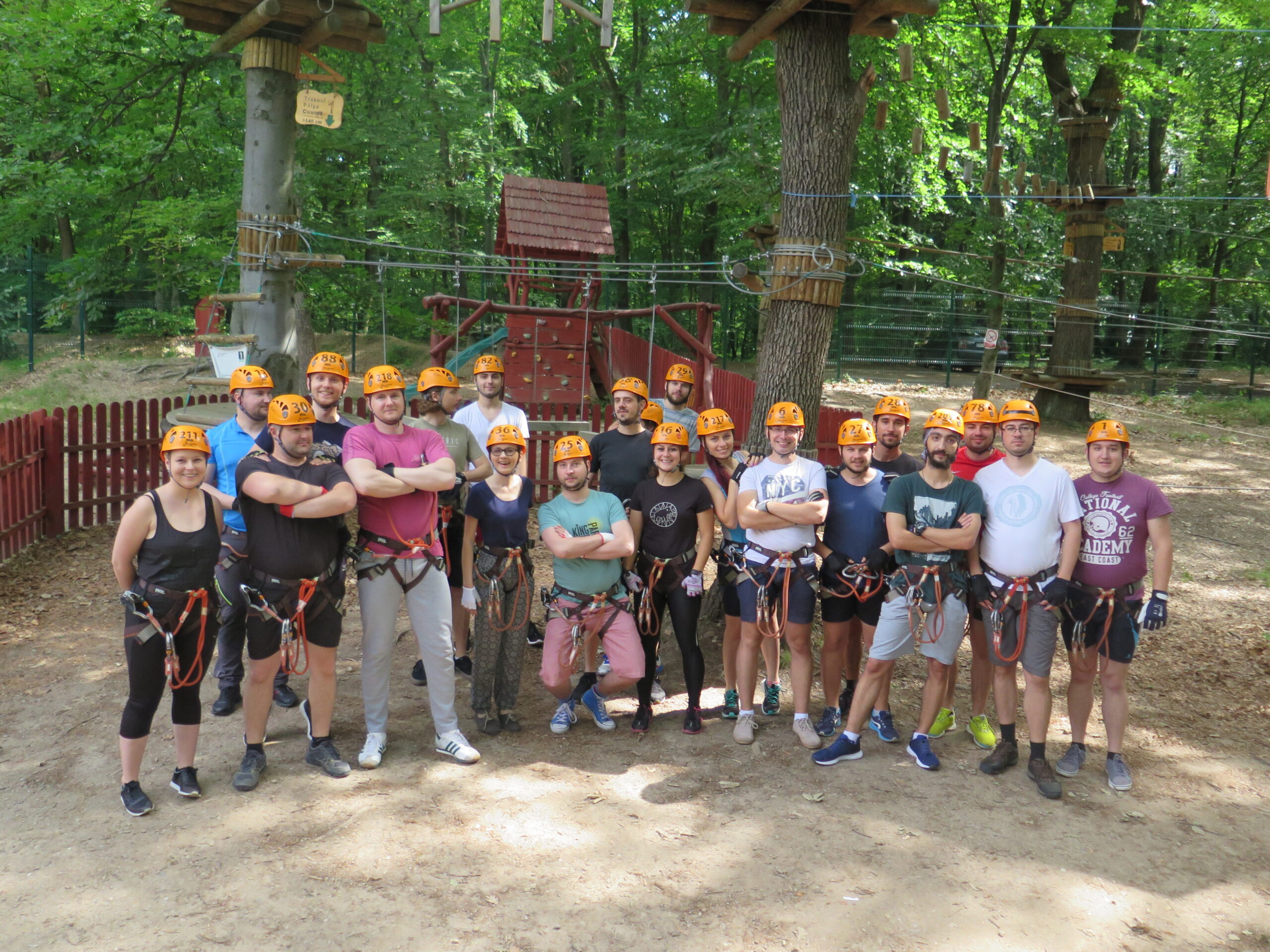 Unite Your Tribe On The Adventure Courses
Get your team together and invite everyone to try the adventure courses at Adrenalin Park. There are beginner courses and extreme adventure courses! There is room for learning, for exploring and for playing together, as one team!
Unite Your Tribe On The Ziplines
Feeling lazy but still looking for the thrills of adventure? Ziplines are for you! Invite your team to experience the refreshing ziplines at Adrenalin Park, among the trees, at impressive heights!
Unite Your Tribe With a Team Circuit
The team circuit at Adrenalin Park is a one-of-a-kind experience. Team games and workshops are designed so that each member of the team gets engaged and has a specific role in the overall success of the team activity! At the end, fun prizes can be awarded!
Unite Your Tribe Around The Fun Awards Ceremony
Your team must take a break from the routine business days and simply enjoy each little victory. That is why, we are happy to help you build a Fun Awards Ceremony at the end of your adventure activities! Nothing stirs our souls better than the feeling of achieving together what initially seemed merely possible!
Unite Your Tribe Around An Outdoor Dinner
Love goes through the stomach! Show some love to your team and invite them at an outdoor dinner in the middle of Nature. Food tastes better when served outdoors, drinks are lighter and chatting comes naturally. Spoil your team from time to time and enjoy the nice atmosphere of our wooden hobbit-like house.
Unite Your Tribe With a Garden Party
Go beyond the standard event routine and organize a garden party, surrounded by tall trees and the sound of birds in Făget forest. Our terraces at Adrenalin Park can easily accommodate around 200 people and we are happy to help you deliver an incredible event.
Unite Your Tribe With An Adventure Olympics
Challenge your teams with an adventure Olympics that could be organized in one day or across multiple days with multiple teams. Set a nice prize and make it fun! We are here with the  adventure logistics!
Unite Your Tribes With Nature Awareness Day
If you feel that your team has become strangers with Nature, remind them that we all are part of it and we must both take inspiration from our natural environment but also protect it. An excellent example are the grounds of Adrenalin Park and we are here to explain more about the organic architecture, about recycling, about clean waters and about environment protection.
If all the above inspired you and moved your heart, unite your tribe with the ultimate group adventure: an immersive outdoor experience at Adrenalin Park near Cluj-Napoca!! Fill in the booking form https://www.adrenalinpark.ro/en/booking/ and we will get back to you, with a customized programme!